The Academy Awards According to Me
by
The Beehive
The Academy Awards are a time to celebrate the year's most uniquely challenging films, a delicate ensemble of messy failed attempts of the grandest spectacle and tiny indies that devastated audiences with emotional gusto and studio adventures that dared to dream beyond the boundaries of the megaplex.
At least, that's what the Academy Awards would be if they didn't suck fucking big time.
Instead, they're a tepid mix of boring political wishy washiness, tarred and feathered into something a bunch of old white men can stick on a pedestal and feel proud to call their own. Sure, every so often something truly great like No Country for Old Men or Silence of the Lambs wins Best Picture. But the Best Picture category is mostly an enormous embarrassment. Look at all of the epic trash that's won in the past few decades. You guys: We live in a world where Forrest Gump beat Pulp Fiction at the Oscars. Where The English Patient beat Fargo. WHERE SHAKESPEARE IN LOVE BEAT SAVING PRIVATE RYAN.
The acting categories can also be totally bunk and totally great in the same year, with equal measure. For every Sandra Bullock lifetime achievement award, there's a Marion Cotillard "thank you life, thank you love" punch to the tear ducts. The year she won was the year Daniel Day Lewis, Tilda Swinton and Javier Bardem all took home acting trophies. Remember how great that was?
But part of the fun of watching the Oscars is laughing at the terrible injustice. We take it so fucking personal in such a stupid, self-congratulatory way. Like how last year I swore to God on my life that I would walk out the door if Meryl Streep beat Viola Davis. And then she DID and I just sat there instead and kept watching because duh, I was never going to actually leave. I just wanted to make an unnecessary point!
So I decided to do the ultimate self-important film fan thing: I'm making my own Oscars goddammit. And here are the nominees:
* There are a smattering of films I have yet to see and are therefore eliminated from this post in the name of fairness. As much as I'd love to sing the praises of Amour, I have not seen it, and therefore cannot laud it. Same goes for The Sessions, Rust and Bone, The Impossible and Life of Pi.
BEST PICTURE:
Zero Dark Thirty
The Master
Moonrise Kingdom
Django Unchained
The Cabin in the Woods
Beasts of the Southern Wild
Holy Motors
The Perks of Being a Wallflower
Les Miserables
Argo
Yeah I know, this list is probably crazy. But it doesn't matter because I'm the Oscar dictator of my own Hollywood regime and what I say rules. And I declare Zero Dark Thirty the film of the year because, for me, it's absolutely everything a Best Picture winner should be: broad, daring, harsh, real, important. It's well-acted and well-realized, blending investigative journalism with cinematic storytelling in a way I'm not sure I've ever seen before. When it was over, I just sat there and sort of blinked for a while, and now I'm reading "No Easy Day" by Mark Owens and watching as many Osama bin Laden documentaries as I can get my grubby hands on. It had a real impact, is what I'm saying.
Equally radical and important to me is The Master, which is one of those films I'm sure we'll all be embarrassed about someday. Like, "Can you believe Lincoln beat The Master for Best Picture in 2013? What the fuck?" I know it's a weird movie, and a somewhat incomplete and lacking portrait of some crazy ass PTSD-suffering raging alcoholic hooked on Scientology. But it's also cerebral and haunting and gloatingly beautiful. The first "processing" sequence between Joaquin Phoenix and Philip Seymour Hoffman is one of those things I'd like played on a loop at my funeral. I have such an affection for movies that break the mold and create something original, bizarre and hard to swallow. The Master is absolutely that.
I know Cabin in the Woods and The Perks of Being a Wallflower probably have no place on this list, but I thought both were superb entries in their respective genres, and shouldn't my newly regulated supremacist Academy acknowledge all arenas of filmmaking, not just the most senior citizen friendly? Cabin and Perks will be classics someday, and I'd like to give them proper credentials while I can.
I'm less enamored with Django Unchained, Les Miserables and Argo than the rest of the entries on this list. Django was great mostly for the bold performances and fun dialogue, but it was weak Tarantino at best. Les Mis is on here strictly for the ballsiness of constructing an entire movie in operatic style (meaning there is no spoken dialogue – just singing). It may not be the most re-watchable or rewarding movie of the year, but I admire it. (And ok, sure, I was one of those kids with a Les Mis t-shirt who sang "On My Own" into my toothbrush.) Argo was so expertly made that I can't ignore it – I was enthralled from the get-go and I can't ignore Affleck's flair for tone and rhythm. He has his movies down to a fluid cadence. Even though I'm still pissed he white-washed his Latino hero into, well… Ben Affleck.
Holy Motors was such a riveting and strange experience that I honestly haven't really decided if I even loved it or hated it. Meaning it most definitely deserves a spot on this list if you're even paying attention.
My two favorite movies of the year, after Zero Dark Thirty I suppose (although I can't tell if that's a favorite or just something that really thwarted me) are Beasts of the Southern Wild and Moonrise Kingdom. Beasts because it's such an original vision that I left the theatre in jealous tears. Why couldn't I have written that movie? Or dreamt up those characters? Pure writers envy, through and through. If you can watch it without crying yourself a whole New Orleans Bathtub full of tears, you're a stronger soul than I. And Moonrise Kingdom was great because it was just so… pretty. And simple. And sometimes it's nice to watch a pretty, simple movie about two disaffected kids who fall in love. I have a hard time with Wes Anderson, but this movie brought me back around.
Honorable Mentions: Magic Mike, Silver Linings Playbook, Anna Karenina, Safety Not Guaranteed 
BEST DIRECTOR:
Kathryn Bigelow – Zero Dark Thirty

Leos Carax – Holy Motors
Paul Thomas Anderson – The Master
Benh Zeitlin – Beasts of the Southern Wild
Stephen Speilberg – Lincoln
The only bone I'm going to throw Spielberg, because I know this is the movie he's been waiting to make his entire career. I love Spielberg, wholeheartedly and unironically. He's made some of my favorite movies of all time (Jurassic Park, E.T., Jaws, Close Encounters, Poltergeist) and I sort of wish he was my Jewish godfather because he's so cute and… godfathery. I just like the man. Lincoln was fine, just a little plodding and boring and corny. The dialogue was all very "wink wink, nod nod, remember this?" And I hate historical movies that pull that shit.
The others should all be self explanatory if you read the Best Picture explanations. Kathryn Bigelow for president!!! (DID YOU KNOW SHE'S 61-YEARS-OLD? I HATE MYSELF.)
BEST ACTOR:
Joaquin Phoenix – The Master

Jamie Foxx – Django Unchained
Bradley Cooper – Silver Linings Playbook
Logan Lerman – The Perks of Being a Wallflower
Denis Lavant – Holy Motors
Like I said above, Joaquin Phoenix is for the record books. I thought this was the best performance of the last few decades if I'm being honest. Which is a crazy, hyperbolic thing to say probably! But seriously, whatever, because this is a role he bled through and lived and dear god if he didn't look disgusting and horrifying and weirdly handsome all at once. ALL THE AWARDS, as they say.
Jamie Foxx and Bradley Cooper both took me totally by surprise because I was soooooooooo expecting to hate them in these movies. Jamie Foxx has always annoyed me for some reason and Bradley Cooper is one of those ucky pretty boys with a shitty comedy resume so I was all "snooze button" before I even saw Silver Linings Playbook. But he was actually really great! And so was Jamie Foxx! And I believe unexpectedly great performances deserve recognition!
Logan Lerman is probably another left field assessment, but I thought he was painfully good as Charlie in Perks. That is not an easy role to pull off at all. It could have been schmaltzy and eye-rolly if he'd gone the typical teenagery route to angst. Instead, he showed great restraint.
The fact that Denis Lavant wasn't actually nominated this year is probably the biggest pity. Because damn is he good. He gives half a dozen performances in Holy Motors, and encompasses each of them with the same breadth and ease. He's a legend.
BEST ACTRESS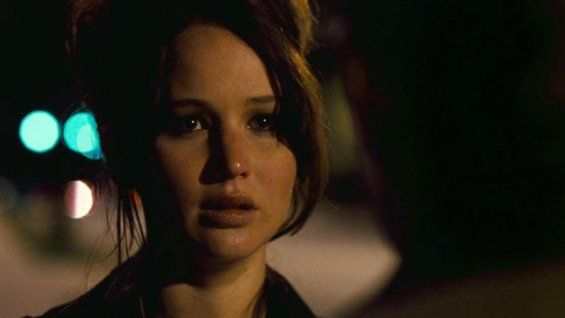 Jennifer Lawrence – Silver Linings Playbook
Jessica Chastain – Zero Dark Thirty
Quvenzhane Wallis – Beasts of the Southern Wild
Keira Knightley – Anna Karenina
Marion Cotillard? Naomi Watts? Emanuelle Riva? I HAVEN'T SEEN ENOUGH MOVIES.
I'm really torn beween J Law and J Chas on this one. I thought Jennifer was marvelous in Silver Linings Playbook, in the sort of role I'm sure most actresses look for their entire lives. (How many Hollywood 30-somethings are side-eying her right now?) She has a pathos to her performances, in that she never really feels like she's trying too hard to be someone else. She just is someone else. She's got a natural ability that's refreshing as hell to watch.
Ditto on Jessica Chastain, who was great in Zero Dark Thirty, if not a little… misplaced? Her character, Maya, gets some of the best lines in the movie, but I'm not sure Jessica was tough enough to get that grit across. If that makes sense. To do that annoying comparison everyone hates, think of Claire Danes in Homeland. The F-bombs fall out of her mouth like they were born and bred there. It's not funny or shocking when she swears, it's just part of her way. Jessica Chastain, on the other hand, is made of shiny porcelain and soy milk, so her curse words come out forced and unnatural. Which isn't necessarily her fault – the character was in desperate need of some quirks, something that offset her from the bramble of men she was surrounded by. If only for narrative reasons. (Maybe the real life Maya really is that vanilla.)
I'm super excited Quvenzhane Wallis got nominated in real life and not just my alternate reality because how exciting are those headlines? Even though I'm of the essence that children don't deserve major acting awards because they're all just playing make believe anyway, it's still unbelievable that a 5-year-old can give a performance like that.
Because this is my world and I make the rules, I'm giving Keira Knightley a nomination for the under-appreciated Anna Karenina. I'm not sure the movie has any lasting weight, which is why it didn't squeak its way into the major categories, but it was beautifully made and Keira's performance was lovely. Joe Wright pulls something out of her that other directors only tickle. Anyone who knows me knows I'm a little obsessed with her (it started with Pirates of the Caribbean and kicked off with mighty girth in Pride and Prejudice), and I'd love to see her acknowledged for the hard work she puts into her outwardly glamorous leading roles. She, too, has an easy talent that's often outweighed by  the public's need to dislike her because she's so frighteningly beautiful. Give the girl a chance – she's doing some quality work! (See also: A Dangerous Method, for which she was criminally overlooked last awards season.)
I don't have a fifth contender because I haven't seen enough of the heavily lauded lady performances this year. In due time! How about instead I just nominate Michelle Williams for… I don't know, her career? I just like her, ok? And she should have won awards for Blue Valentine. So there.
BEST SUPPORTING ACTOR:
Leonardo DiCaprio – Django Unchained

Christoph Waltz – Django Unchained
Samuel L. Jackson – Django Unchained
Ezra Miller – The Perks of Being a Wallflower
Philip Seymour-Hoffman – The Master
I'm just going to call this the Django Unchained Category because duh. I'm really pissed that only Christoph Waltz was recognized for his work in the movie because, in my humble opinion, it was Leonardo DiCaprio who really surprised me. Christoph is just playing a likable version of Hans Landa and Samuel L. Jackson isn't treading any new ground in his career (and I still nominate them both because even their routine roles are great!). But Leo has played the same mega-serious leading man roles since forever (with the exception of What's Eating Gilbert Grape and some of his earliest work). Django was like a swift kick in the groin to that notion – here he is playing a delightfully chummy masochist plantation owner who gets some sick, happy pleasure out of watching his slaves fight each other to the death. Fucked up and vile, but fascinating when it comes from the guy who played a straighter version of J. Edgar Hoover than even J. Edgar Hoover. I hope this signifies a change in pace from his norm. If only he had an Oscar on his mantelpiece as a big, gold pat on the back.
Ezra Miller also gave a career-making performance this year. I'm so excited to see what this kid does next. His Patrick in Perks was no doubt a revolution for kids of a similar disposition. I know a few myself who have cited him as a heartbreaking portrait of their toughest years. He has a deepness that can't be contained.
Oh, and Philip Seymour-Hoffman for shits and giggles. He gave a great Not L. Ron Hubbard impersonation and I also just really like him. Tommy Lee Jones will win this award in the real world.
BEST SUPPORTING ACTRESS:
Anne Hathaway – Les Miserables

Amy Adams – The Master
Kerry Washington – Django Unchained
Anne Hathaway – The Dark Knight Rises
Jacki Weaver – Silver Linings Playbook
You're all going to laugh at me now. But fuck you, I OWN YOU, REMEMBER?
I know Anne Hathaway has been insufferable as shit this awards season and I'm with you when I say I sort of hope she wins just so she'll shut up and go away for a while. (Just like every insufferable Oscar campaign gal in recent memory – why do ladies get such a harsh press fallout this time of year?. But I also sort of hope she wins because I thought she did a great job of withstanding the hype, i.e. I thought her performance in Les Miserables was fan-fucking-tastic. She stole that movie from under Hugh Jackman's feet and she'll carry the flag forevermore. Her rendition of "I Dreamed a Dream" made me sob into my keyboard the first time I heard it. It's tonally askew and raw and ugly, but she sells it tenfold. There's a crazy dedication that went into the role (like, did you know Tom Hooper didn't even ask her to lose weight? She just did that herself because she's nuts.) and I like that balls-to-the-wall approach to acting. And she wasn't afraid of looking ugly. In fact, she looks as ugly as Anne Hathaway could possibly look in the movie, with her jutting collarbone and her dirty face and her yellow teeth. There's no attempt at glamor whatsoever and I love that.
I also thought she was great in The Dark Knight Rises. Probably the only part of that movie that deserves some awards glory. I mean, that's probably a bit of a stretch, but also FUCK YOU, MY RULES. She's the thing I'll remember most in ten years when Ezra Miller is the Joker in some Justice League spin-off series.
I'm also nominating Amy Adams because she terrified me in The Master and I thought, if not for Joaquin Phoenix, she'd have been the talking point of the film. Kerry Washington is in there because why do the boys get to have all of the fun and also all of her torture scenes were genuinely heart-wrenching because she's so good at screaming. And Jacki Weaver because screw all of the people scratching their head about her actual nomination this morning. She's an Australian who turned into one of the most believable south Philadelphian mothers I've ever seen. LOVE YOU, JACKI.
BEST ORIGINAL SCREENPLAY:
Wes Anderson and Roman Coppola – Moonrise Kingdom

Mark Boal – Zero Dark Thirty
Brit Marling and Zal Batmanglij – Sound of my Voice
Quentin Tarantino – Django Unchained
Joss Whedon and Drew Goddard – The Cabin in the Woods
I really do think Moonrise Kingdom was the standout in this category this year, in both universes. It was wholly original, cute without overdoing it, funny, melancholy, relatable. The total screenwriting package.
That said, Zero Dark Thirty, as I mentioned above, blurred the line between journalism and filmmaking, and I'm in awe of that feat. I'm sure other films have aimed for this goal, but given the immediacy of this project, how fresh the topic is on the minds of America, it's the perfect storm for delivering otherwise misinformed or misinterpreted information in a digestible way.
It's a tie.
I'm also acknowledging Sound of my Voice, one of the weirdest movies of the year, and another one of my favorites. The actual film leaves some choices to be desired, but the script was incredible, with a genuine payoff and a really chilling cliffhanger. Is it sci-fi? Is it psychological? Both? Neither? Either way, you will talk about this movie for a long time.
And yeah, blah blah, Django had a good script, Cabin in the Woods was genre-bending. You know this already.
The fanboys of the Internet are routinely devastated that Looper didn't get any acknowledgment in this category after its unexpected WGA nomination last week. I have to say, this particular friendly dictator was not as impressed as my legion of drones. I thought Looper, while fun in a whacky sci-fi way, was just that: whacky sci-fi. Which isn't to say whacky sci-fi can't transcend, or can't be good screenwriting. It can, absolutely. But I don't feel like Looper was the one to do that. To me, good screenwriting relies on the ability for that writing to make the leap from page to film in a successful manner. And the semi-ridiculous third act of Looper was never NOT going to look absurd in execution, sorry. I know you may disagree, but just remember: I own you.
BEST ADAPTED SCREENPLAY:
Stephen Chbosky – The Perks of Being a Wallflower

David O. Russell – Silver Linings Playbook
Chris Terrio – Argo
Lucy Alibar and Benh Zeitlin – Beasts of the Southern Wild
Tom Stoppard – Anna Karenina
Again, Perks because of how much it resonates. It's set in the early 1990s, but it doesn't feel any less relevant or important. And shockingly, the book's author, Stephen Chbosky, did a great job of adapting and directing his own material. He didn't keep every storyline like a more fanatic or self-important writer would. He translated it to film in a way that captured the elegance of the story without sacrifice.
Everything else is just noise at this point – but I wanted to give Tom Stoppard some kudos for his tight Anna Karenina script. Even though I'm sure it was Joe Wright's inspired choice to set the film in a theatre instead of the Russian countryside, that wouldn't have been possible without Stoppard's immaculately clipped version of the lofty story. He made all the right choices in what needed to stay and what needed to go.